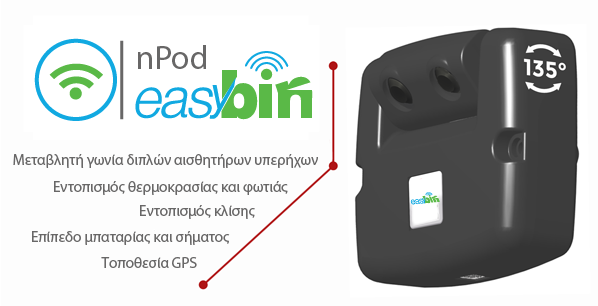 The innovative design features of nPod equipment allow for the ultimate in flexibility when mounting the device on any type of surface.
At our platform, we know that remote monitoring of the occupancy level is only useful when the sensors are optimally positioned and offer systematic and accurate measurements. Our innovative system can be mounted on the side wall of many bins or silos ensuring that the device measures the waste flow accurately.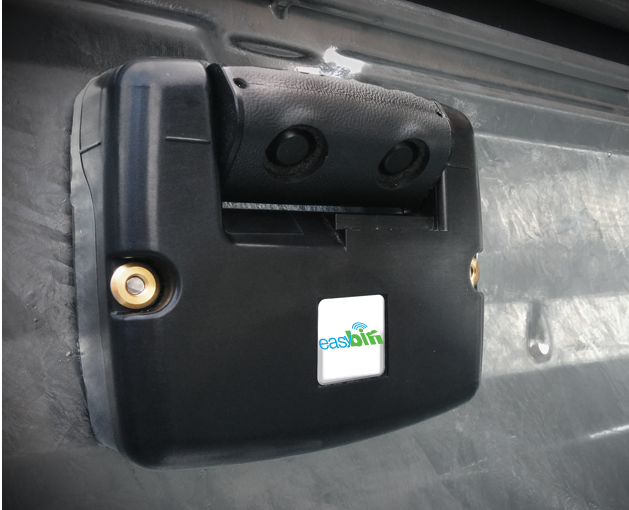 The dual ultrasound design with which the device works increases its efficiency. The nPod is quick and easy to install using two stainless steel screws. The sensors operate with ultrasound and are locked in place securely. Shocks and breaks of the bucket will not change its locked position, while the extremely elastic durable polycarbonate material from which it is made, provides protection from advanced electronic means.

The nPod was developed in collaboration with a world leader in bin design and we know it will withstand the most adverse environments for years to come. Tested on multiple types of bins through a range of temperatures the nPod consistently and accurately performs the function of measuring the fullness of the waste daily.
Technical specifications of nPod
Generally 
The EasyBin nPod is a wireless, battery-powered ultrasonic device for monitoring the level of waste that sends real-time data to the control center.
Measuring sensor
40KHz ultrasonic sensor with variable angle range 135 °
Depth range
3cm - 4μ. (for up to 6m you need a sensor with a larger radius)
Analysis
2cm
Temperature sensor
Indication of the temperature of the bin with the possibility of detecting fire
Tilt sensor
Detects a bin with an open lid as well as a fallen bin etc
Housing 
IP66
Material
Polycarbonate plastic
Fixation
Sealed drive bolt M6
Dimensions
140 x 122 x 46 mm
Weight      
About 380 gr.
Operating temperature
-40 ℃ up to + 70 ℃
Power
Battery operation
Battery type
Lithium
Battery life
10 years (with 1 indication per day average)
Battery Level Monitor
Battery charge status is monitored in real time
Communications / connections
GPRS (mobile network) & support for other M2M wireless networks
Antenna
Indoor
Approvals
CE
Data recording
On Cloud servers
Optional sensors
Additional ultrasonic sensors for dual bins & GPS for automatic position detection